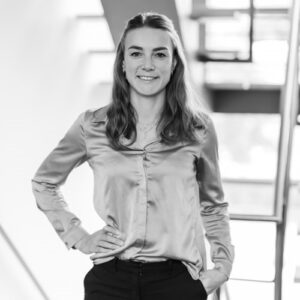 Maaike de Boer
Maaike de Boer is an HR officer at Pereira. Together with the HR adviser, she deals with various Human Resources matters. These relate to recruitment, onboarding, sustainable employability and administration concerning personnel policy. Answering HR-related questions from employees is also part of her duties.
"Every day is different. This makes the work dynamic. I enjoy working with people, helping colleagues and being able to learn from others. As I find all this in my work at Pereira, I really enjoy working here!"
Working at Pereira since: May 2022
Study background: Bachelor's degree in Human Resource Management at Utrecht University of Applied Sciences. After having worked first, she started the Premaster in Policy, Communication and Organisation in 2021. In academic year 2022-2023, Maaike will follow the Master of the same program. Previous positions: Maaike previously worked as a Recruiter in the construction industry and as a Nurse Support Worker at the GGD Zuid-Holland Zuid.
E-mail: maaike.de.boer@pereiraconsultants.com
Telefoon: 070 75 70 100