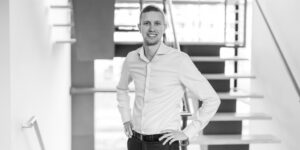 Thom van Driel
Thom van Driel works as an experienced consultant for Pereira. He is an all-rounder who advises on the full spectrum of both national and international tax law.
'My direct involvement with clients is a very interesting aspect of the work. I am alert to our clients' needs and understand their business. This enables me to provide tailored advice. I enjoy learning new things every day; both relating to tax and other matters. This also allows me to continue my development. Pereira invests in its personnel, so that they can apply their skills to the best of their abilities. I really appreciate that.'
Working for Pereira since: January 2017
Educational background: fiscal economics, Erasmus University Rotterdam, with as thesis a study on state aid by the Dutch regime for fiscal investment institutions.
Previous functions: Thom was a working student for Baker Tilly Berk and EY's ITS department; both jobs were in Rotterdam. He also worked for Stichting Belastingwinkel Rotterdam, an organisation that provides tax advice for low-income residents. He served one year as a board member and two years as a member of the Advisory and Supervisory Board.
E-mail: thom.van.driel@pereiraconsultants.com
Telephone: +31 70 75 70 100